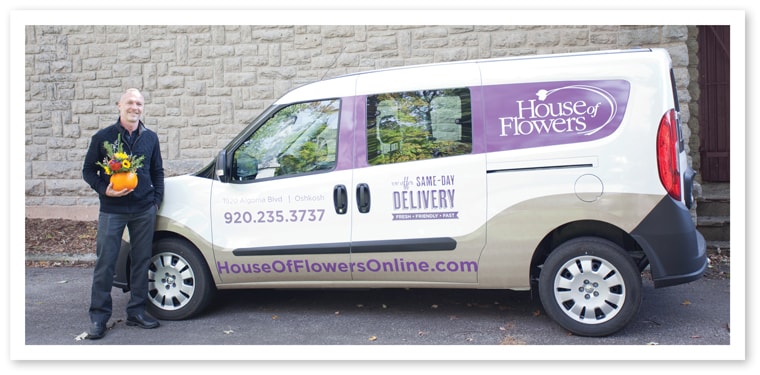 Hand Delivered With Love
What a great surprise it is to receive a beautiful bouquet on that special day, or a creative arrangement at a holiday gathering. At House of Flowers, we take care of your every delivery need down to the last important detail.
Delivery fees & timing
A local delivery fee of $11.95 will be added to each order, per address.
For deliveries outside of our delivery area, the delivery fee may vary.
U.S. orders must be received before 2 p.m. in the recipient's time zone to assure same-day delivery.
Orders received after 2 p.m. will be delivered the following day.
We will do our best to accommodate deliveries at specific times of day, but it cannot be guaranteed.
We are unable to make deliveries on Sunday. Deliveries requested on this day will be delivered the following business day.
Sunday delivery available for funeral visitations if the order is placed in advance.
Due to the perishable nature of our product, deliveries cannot be left at the intended destination unless prior authorization is given and weather permits. Our drivers, in the instance the intended recipient isn't home, will often attempt to ask a neighbor to accept the package and deliver on our behalf. Additionally, we tag the door letting them know they have a package and often call if we have the recipients phone number. .
Location
Oshkosh
Omro
Winneconne
Neenah
Menasha
Pickett
Buttes Des Mortes
Van Dyne
In addition, we deliver to many local facilities.
Affordable Funeral and Cremation
Alterra Sterling House
Arborview Manor
Aurora Health Center, Oshkosh
Bethel Home
Care Partners
Carmel Residence
Elijah's Place
Encore Senior Villa, Oshkosh
Evergreen Retirement Community
Fiss and Bills-Poklasny Funeral
Gabriel's Villa
Heritage Court Apts.
Konrad-Behlman Funeral Home
Kwiatkowski Funeral Home
Mercy Medical Center
Mueller Funeral Home Inc.
New Haven Inc.
New Haven of Oshkosh
Omro Care Center
Oshkosh Medical and Rehab Center
Seefeld Funeral and Cremation Services
Serenity Place
Simeanna I
Simeanna II
Simeanna III
Sisters of Sorrowful Mother
Valley Nursing Service and Consulting
Villa Saint Theresa Inc.
Webster Manor
Zion Lutheran Church
Delivery of orders to rural route addresses or cemeteries cannot be guaranteed.
International orders must be ordered via phone or in person at our direct location. We are unable to accept international orders via the internet.
Thank you for choosing House of Flowers to exceed your expectations for your floral delivery.